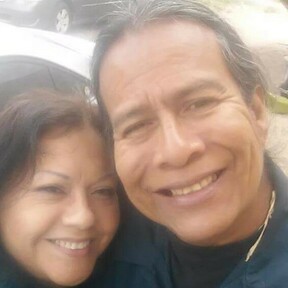 My name is Jerome L. Martinez, my Passions and Cultures are in my Art!
I am an artist , a Native American artist, frome the Pueblo of San Ildefonso. My shop of signed images holds works of the past, present and future. All questions are welcome.
I started my career in art since I was very young. I was always told that I was a good artist growing up. I only taught myself to paint once I graduated from high school.
My mentors and past artist painters that inspired me are. My Dad, Julian Martinez, his grandfather also Julian, my great uncles, Awa Tsireh, Gilbert Atencio, JD Roybal, Anthony "Tony" Da, JD Medina (from Zia Pueblo), and over the past two decades or so, Dominic Arquero (from Cochiti Pueblo) has been an important mentor.
My family history is for the most part, very famous pottery makers. My Great Grandmother is Maria Martinez.
In September of 2013 I was married to a beautiful Dakota woman from Spirit Lake, ND. It was a very beautiful Traditional Dakota ceremony.
I want to give back, not only to my family but to my Tribe. My art is the gift that Creator has given me. With this and my driven ambition as an entrepreneur and with Etsy, I will be able to one day accomplish this goal.
As former Manager and Ranger of my Pueblo's Parks and Wildlife Program. I feel that resources available are very limited to expand the P & W Program therefore I would like to one day give back to this important program, and provide employment for interested Tribal members.
I keep my prices affordable; from time to time I will have originals available. I learned to keep my prices modest from my Great Grandmother Maria; her Spirit has kept my positive and creative at times when I needed inspiration the most.
Enjoy my art and please do not be afraid to follow and recommend my shop to friends and family who might be interested. Thank you!
Official Name of Tribe (if Seller):
San Ildefonso Pueblo
No followed people