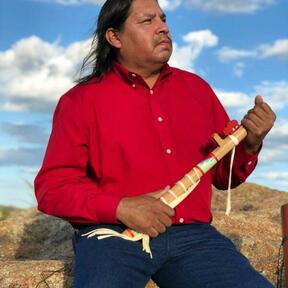 Timothy Tate Nevaquaya, of the Comanche Nation, has been creating breathtaking pieces of art for over 25 years of his life that tell the stories of Indigenous peoples, crossing tribal lines, rendered in his own unique style that melds the traditional and the modern.
Mr. Nevaquaya was born 1966 in Lawton, Oklahoma and is one of nine children. His father is the late Doc Tate Nevaquaya (1932-1996), a renowned watercolor painter. A member of the Comanche Nation, Mr. Nevaquaya had a diverse upbringing that also consisted of Choctaw and Chickasaw traditions and values from his mother's side of the family. This would eventually play a significant role in the subject matter that his paintings would consist of at the inception of his career.
The foundations of Mr. Nevaquaya's artistic style were laid down in his childhood when he was apprenticed to his father. This collaboration saw that Mr. Nevaquaya's education in art began with an intimate knowledge of the Kiowa Five style of watercolor painting that his father had become known for in art circles in Oklahoma and beyond. Eventually, as Mr. Nevaquaya's career in the fine arts progressed he developed a style of his own in oils that originated in a bout of spontaneity that matured into something wholly distinct from his father's. No two Nevaquayas can be mistaken for the other. In fact, all four of Doc Tate Nevaquaya's sons would go on to become skilled artists in fine art and the Native American Flute, both in playing and crafting them.
Timothy Tate Nevaquaya with his vivid colors and bold figures has managed to balance his individuality, his pan-tribal heritage, and the legacy of his father all at once. This is a tall order for anyone to execute and Mr. Nevaquaya has done both with success and verve.
Recently, in 2013 Mr. Nevaquaya and his brother Calvert erected an art installation at the Briscoe Western Art Museum in San Antonio, Texas. An imposing 16-foot teepee that depicted a buffalo hunt in a blend that incorporated both brothers' styles. His work has been featured in the McCormick Gallery in Taos, New Mexico and at the Southern Plains Indian Museum in Anadarko, Oklahoma. In the summer of 2018, Mr. Nevaquaya will be opening studios in Hochatown and Medicine Park, Oklahoma that will offer painting workshops and paint along events to the general public.
It goes without saying that By Tribal is honored and excited to host Timothy Tate Nevaquaya, represented here by his wife Alicia Nevaquaya. We hope to not only be graced by Mr. Nevaquaya's art but also to signal boost all of his artistic endeavors to a wider audience and help preserve the legacy of Indigenous art for generations to come.
More information on Mr. Nevaquaya's upcoming workshops and events can be found here @
https://www.facebook.com/nevaquayafinearts/
Official Name of Tribe (if Seller):
Comanche
No followed people